Attractions for hedonists. What's worth installing in your facility?
There are many motivations for traveling. For many people, traveling is no longer just following tourist attractions. Some tourists put relaxation first and are happy to visit places that can offer it, regardless of their location. On OTA portals, they often use filters that allow them to select additional attractions. Check what's worth installing in your facility to raise its standard.
Hedonism
That is, a philosophy of life based on the pursuit of pleasure. According to this doctrine, every hedonist seeks pleasure, be it material or psychological. Pleasure is, of course, a very individual concept, and each hedonist may understand it in their own way. What is certain, however, is that the number of people looking for relaxation in travels is constantly growing and it is the right moment to take advantage of this trend in your guest house, house or apartment.
SPA salon in the accommodation facility
Large hotels and resorts have accustomed us to the constant availability of attractions that every hedonist will enjoy. Nevertheless, a SPA zone is also an option for small accommodations, although often in a slightly different edition. For many travelers, the intimate atmosphere of a private SPA zone will win over the hustle and bustle of large hotels. So what is worth installing in your facility?
Sauna
Having many health-promoting properties, sauna is one of the most favoured attractions among travelers for whom the philosophy of hedonism is important. Being in a sauna is relaxing for the whole body, and its warmth can be appreciated especially during the winter season. Facilities offering a garden sauna are particularly popular. Stepping out of a hot sauna directly into a snowy garden is an attraction that tourists are willing to pay extra for.
Massages and relaxation treatments
Spa-like relaxation in a small accommodation facility? It is possible. Even if you don't have the resources such as studios and qualified staff, you can always offer treatments and massages arranged in advance and delivered to your accommodation. All you have to do is find professionals in this field who are mobile, agree on the details, prepare the offer and start receiving guests.

Water fun
Attractions for hedonists are often associated with water. Its pleasant touch on the skin soothes, relaxes muscles and calms down. However, it is worth remembering that hedonists also enjoy being by the water, and not necessarily in it. What water attractions should be installed in the accommodation?
Swimming pool
An outdoor swimming pool is an element of the offer that significantly increases the appeal of the accommodation facility during the summer season. It will make your guests feel like they are on holiday in a foreign resort, minus the unnecessary hustle and bustle of other tourists. Unfortunately, the climate of Poland differs significantly from that of popular holiday destinations ideal for relaxing by the pool, so an outdoor pool, although impressive, may be unused for most of the year. Therefore, if there are conditions and possibilities to create an indoor pool, it's also an option worth considering. It may not be as glamorous as an outdoor pool, but will certainly be more practical.
A popular type of backyard swimming pool is the Canadian pool, among others. Its simple design saves a lot of budget and the effect is very aesthetically pleasing. However, you need to bear in mind that it takes extra work to keep any pool clean and functional.
Natural or ecological swimming pond
Natural bodies of water or their ecological equivalents are an interesting alternative to a swimming pool. Particularly in accommodation facilities where the proximity to nature and the eco-friendly approach of the hosts is clearly marked. Their uniqueness is underlined by the fact that, in addition to their recreational function, they are an excellent decoration for any garden, pleasing the eye with their aesthetic qualities. It is also worth considering the fact that swimming ponds in accommodation facilities are not yet smashing popularity records, so this type of attraction will be something that is bound to make the facility stand out from the competition.
Banya and jacuzzi
Who doesn't love a long, hot bath under a starry sky? Attractions such as the balia (also known as the Russian banya) or the hot tub are ageless classics among hedonists. Both the balia and the garden jacuzzi can be successfully used all year round, regardless of the weather. However, these solutions differ in the way they are used. The Russian banya heater is wood-fired and takes time and a some practice to operate. Jacuzzi tubs, on the other hand, are powered by electricity, but require a connection to a water supply and a drain. Both options allow guests to enjoy water-based relaxation – with a whirlpool addition in the jacuzzi. The choice should fall on the option that best suits your time and financial capabilities. If your choice is the Russian banya, the price may positively surprise you in comparison with the jacuzzi bathtub. Unfortunately, despite the lower cost, the tub requires much more maintenance and operation time.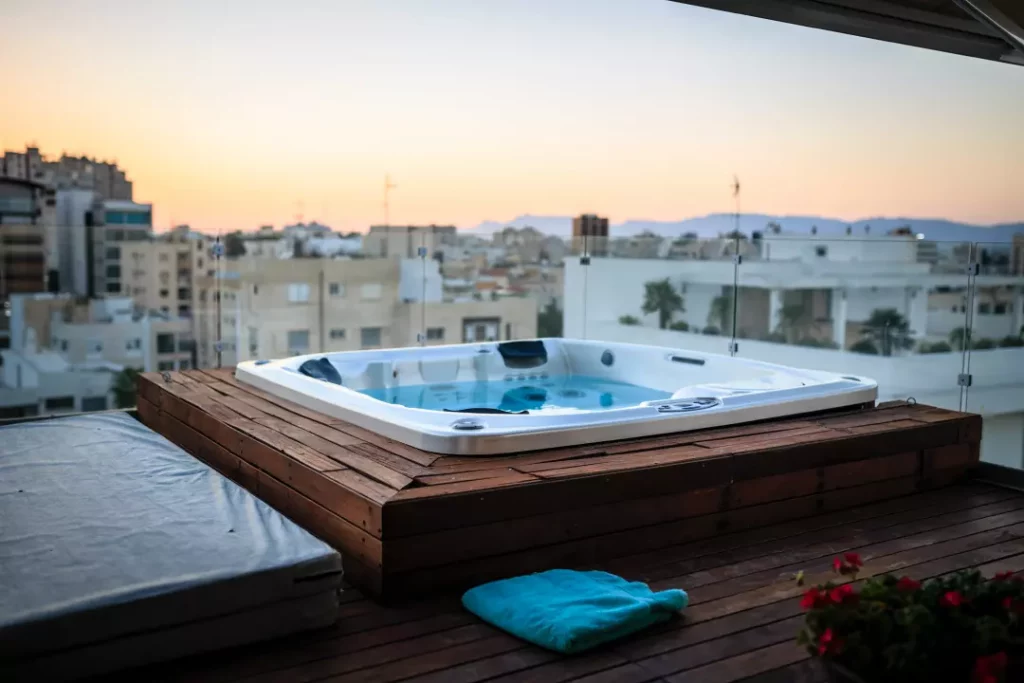 Low-budget attractions that your guests will love
Almost every hedonistic attraction listed above involves a considerable financial investment. Below, we have included some ideas on how to turn your accommodation into a relaxation-oriented guest-friendly destination at a low cost.
Loungers and comfortable resting spots
Sometimes we don't need much to relax. A comfortable place to sit and a good book may be all we need. In your accommodation, make sure you have places made for exactly this kind of relaxation. Designate a place indoors and outdoors and furnish it with loungers, armchairs or other comfortable lounge furniture. Set the mood in the area. An aesthetic table, the green of plants, candles and lanterns – all these things will help you to turn a piece of your terrace into a real sanctuary of relaxation.
Hammock in the shade of trees
Relaxing in a hammock has something magical about it. It lulls your guests into a sense of carefree tranquility with its relaxed, soothing sway. If you have some space available at your accommodation – the hammock is the right attraction for you. Its setup does not require a large financial investment, and there are sure to be many enthusiasts of peaceful rocking in the shade of trees. This idea will work not only in a typical accommodation facility but also in agritourism.
A bathroom designed for relaxation
What if the flat you're renting doesn't have space for extra lounge furniture or an outdoor area? Take care of the bathroom, a place you certainly already have. Transform the look of your bathroom with plants, as greenery is always helpful for relaxation. Just make sure which types of plants can withstand the humid bathroom climate well before you buy. In addition to greenery, it is worth to equip your bathroom with candles to help set the mood during long baths. If you have a bathtub, be sure to stock up on home spa accessories – bath salts, lotions and balms. A bath shelf that can hold a favorite book or a glass of wine can also be useful.