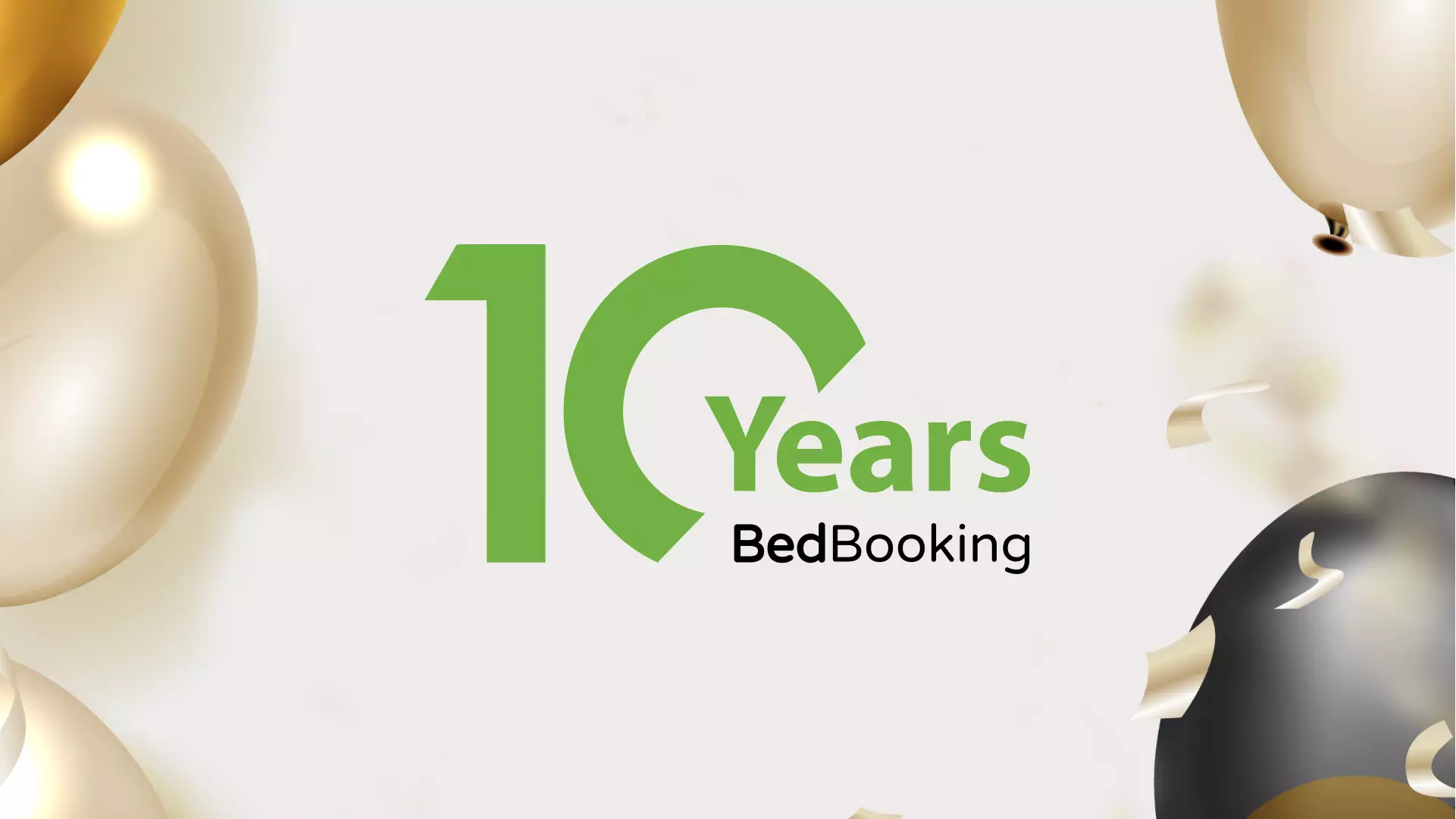 How was the application for accommodation owners born?
BedBooking is one of the most popular accommodation management applications in Poland and worldwide. This year, the application celebrates its 10th anniversary. However, it started as a simple reservation calendar and today it is called a channel manager or an online hotel reservation system.
The reservation calendar application now offers many advanced functionalities and modules, such as pricing, connection with OTA, creating your own calendar on the website, accepting online reservations, invoicing for rent, adding amenities to the offer, and setting price restrictions.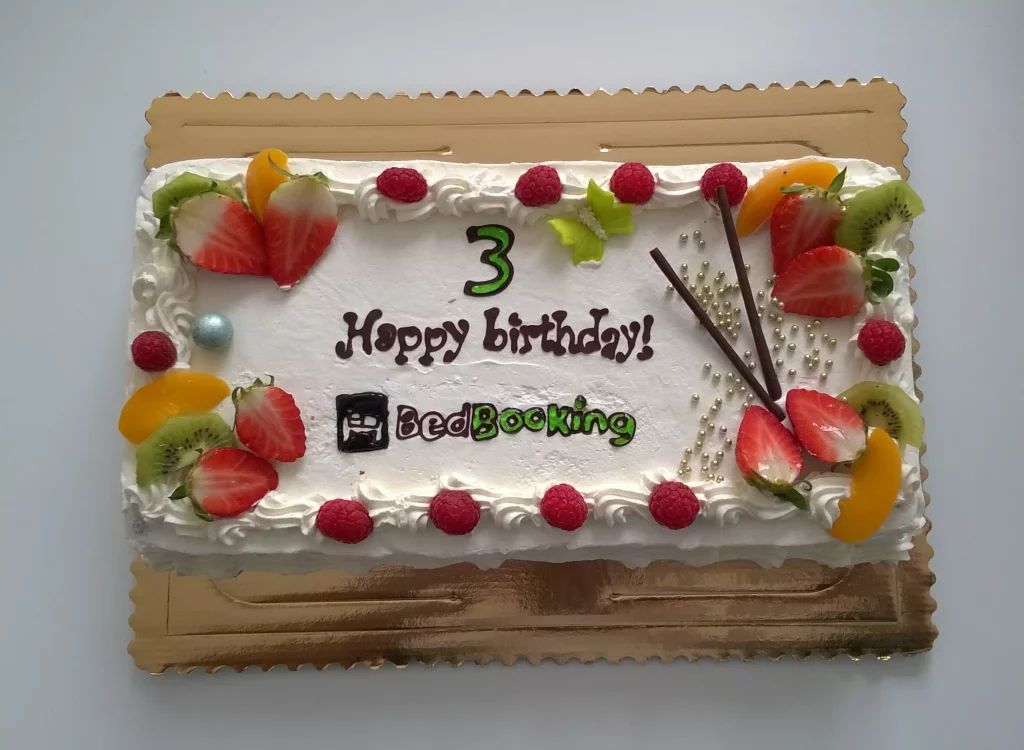 BedBooking History
The history of BedBooking dates back to 2013 when the first prototype of our application was created. The idea for BedBooking was born in RST Software Masters. The project was implemented as one of the internal projects of the company. Its primary goal was to acquire and test new skills such as creating mobile applications. The reason for entering the tourism industry was the team's experience in systems for the tourism industry (NetTur). The idea that emerged was a mobile reservation calendar. The solution was designed for users as a simple, intuitive, high-quality, and innovative tool for daily work. Hence the idea of a mobile reception available on a phone or tablet for small and medium-sized accommodation facilities.
The idea of BedBooking is to support people who rent accommodation in their daily work. We are proud that users from all over the world use our system.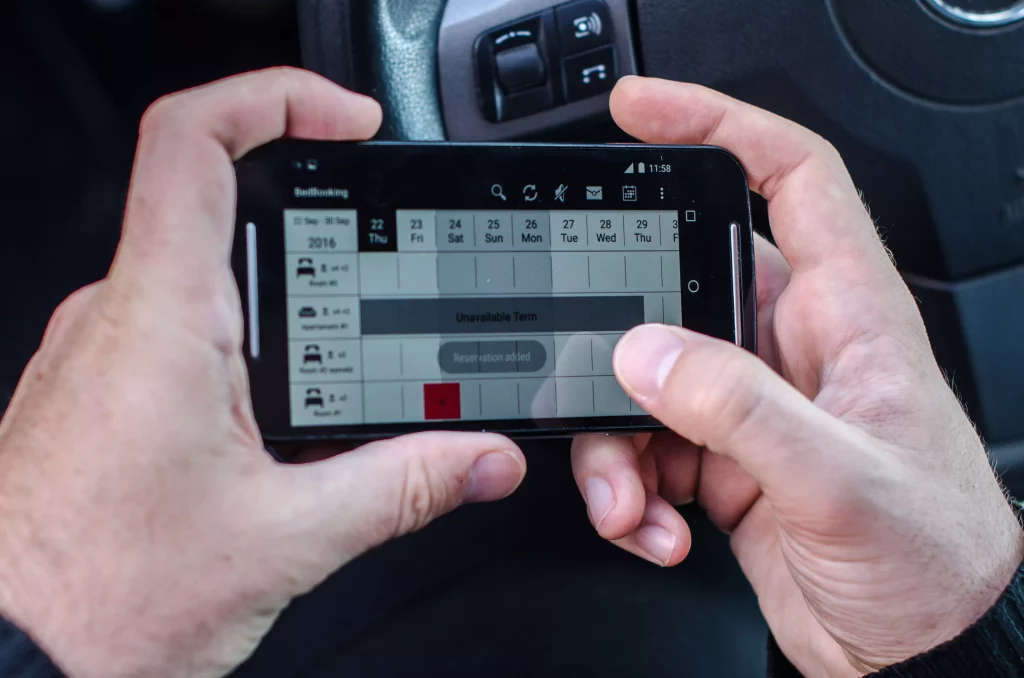 How BedBooking's reservation calendar has changed
It was a simple reservation calendar that was supposed to help accommodation owners manage reservations and room availability. However, we knew back then that our users' needs were much greater, so we started developing our tool and adding more features.
Hosts renting out their apartments, flats, or owning agritourism or campsites were looking for solutions to their problems:
flexible management of accommodation sales offers – setting prices for special occasions, e.g., long weekends
time-saving and no mistakes in calculating the price of the stay – setting additional prices, e.g., children's offer
standing out from the competition – amenities – adding information about the accommodation facilities
quick launch of an online reservation sales channel without the need for specialized technical knowledge (low entry threshold) – reservation calendar on the website – without the need to create a website
making business decisions based on hard data – statistics and reports
saving hosts' time and money (no need for third-party solutions/manual data entry from the reservation system into invoices) – invoicing directly in BedBooking
Today, BedBooking is not just a reservation calendar, but also a channel manager that enables managing reservations from various sales channels such as Booking.com, Airbnb, or via iCal, and a hotel reservation system that allows selling rooms directly from the accommodation facility's website. Integration with online travel agencies (OTA) is one of the modules that allows keeping all reservations in one place.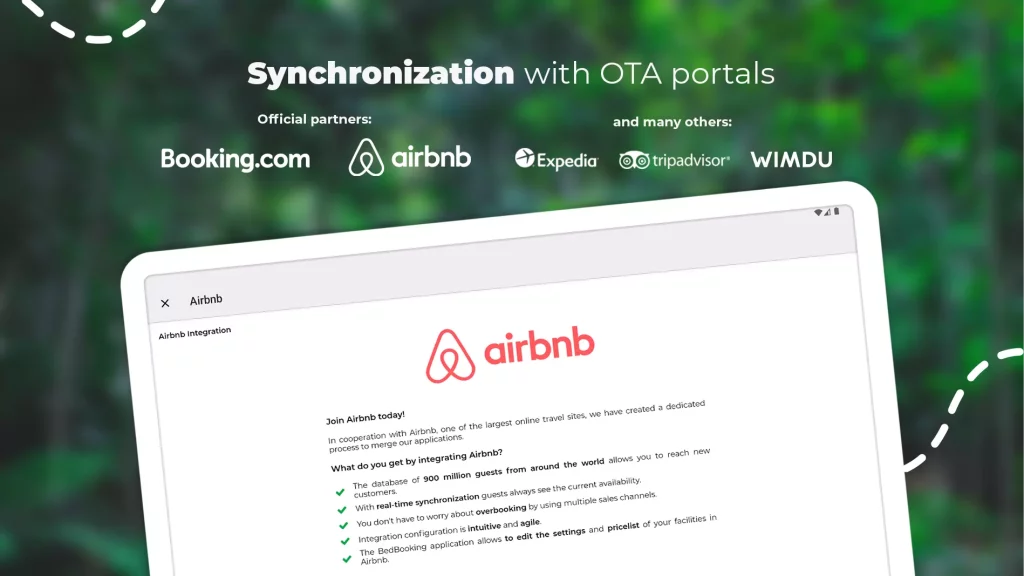 Successes in BedBooking
In the world of dynamic technological development, thanks to continuous improvement of its application, the company has gained recognition among both users and experts in the short-term rental industry.
1. Mobile first – an innovative approach to business
BedBooking, as one of the first providers on the market, adopted a "mobile first" strategy, creating an application dedicated primarily to mobile devices. This approach has made the application highly appreciated by users, as evidenced by the high number of positive reviews in the Google Play and App Store. As a result, every host has a reception on their smartphone.
2. Expert recognition – awards and distinctions
The quality and simplicity of the BedBooking solution has also been recognized by industry experts. The company won the main Tech Travel Award 2015 in the mobile application category and was awarded the distinction in the II Edition of the NEW TECH – NEW TRAVEL competition in the B2B category. Diplomas from these competitions decorate the walls of the company's headquarters, which is proof of the team's success and commitment to creating a valuable application.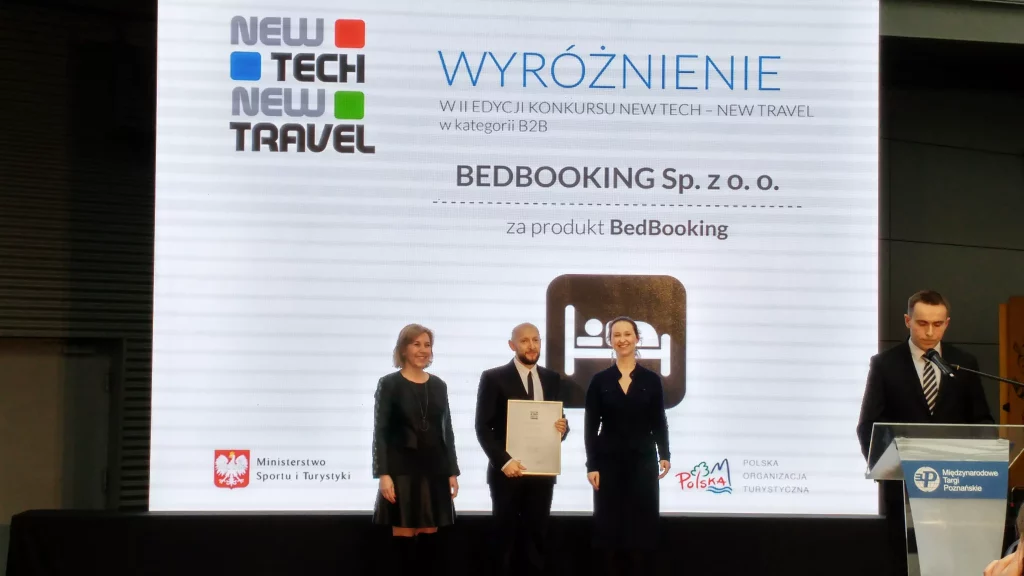 3. Global reach – experience and knowledge from around the world
BedBooking can boast a global reach of its application, which has allowed the company to gain knowledge and experience from hosts from different countries. As a result, the company has a wider view of the problems associated with short-term rentals, making BedBooking an even more competitive solution compared to local software providers.
4. Flexible offer – tailored to the seasonality of the business
BedBooking understands the specific nature of seasonality in the short-term rental industry. The company has developed a flexible range of services that can be purchased only during the high season. This model allows for cost optimization and better adaptation to customer needs.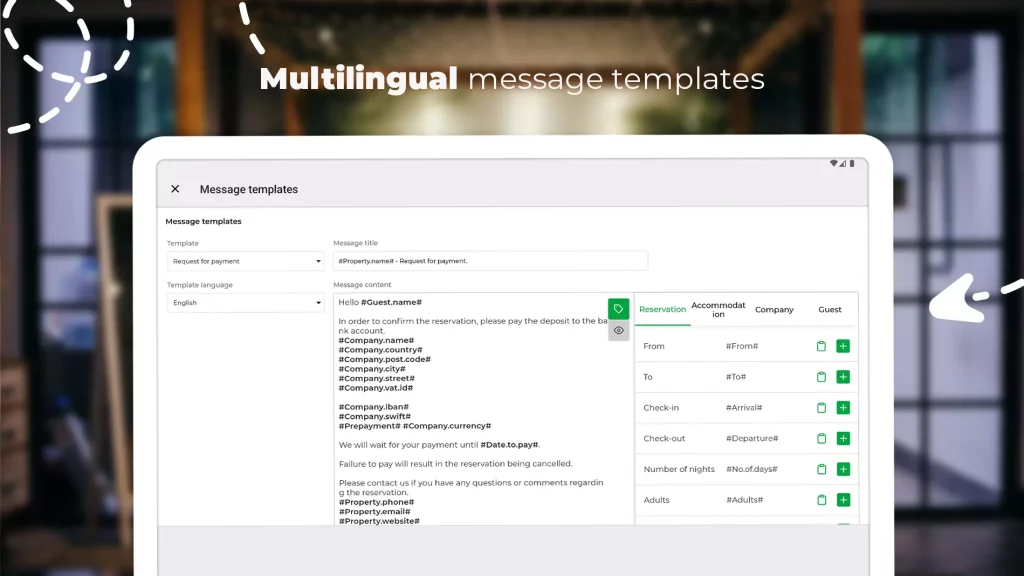 Working together for success – BedBooking team
Thanks to continuous development and adding new features, BedBooking has become extremely popular among owners of accommodation facilities in Poland and abroad. Our application is currently used in Poland, Germany, Italy, Spain, Portugal, Brazil, Greece, Zanzibar, as well as in the Philippines, Thailand, USA, Australia, Saudi Arabia and South Africa. The application currently has 24 language versions, and bookings are made in various parts of the world.
All of this would not be possible without the commitment and trust of our team:
programmers
testers
product owners
UX designers
technical support agents
marketing specialists
customer success
administrative employees
accountants
HR specialists
Each member of our team has added and continues to add tremendous value to the end product that users of the BedBooking calendar application receive. We would therefore like to thank everyone who uses our application and helps us develop it.
The product owner and UX designer team at BedBooking is crucial to the application's success. Their task is to ensure that the application meets the needs of users, is intuitive to use, and aesthetically designed. Product owners are responsible for the product development strategy, define functional requirements, and ensure compliance with the company's vision. They care about the needs of hosts and property owners for rent.
UX designers, on the other hand, are responsible for designing the user interface to make the application as user-friendly and easy to use as possible. Thanks to their work, the BedBooking calendar application is intuitive, functional, and aesthetically designed, which translates into customer satisfaction and positive market reviews.
The BedBooking development team is responsible for creating software for owners of accommodation facilities. Their task is to design, program, and develop the application to meet user needs. Developers strive to introduce new features and improvements to make the application as intuitive and easy to use as possible. They also care about the security and stability of the application, so that users can use it without fear of crashes. Together with the testing team, developers strive to ensure the highest quality software, which translates into customer satisfaction and positive market reviews.
The testing team plays a crucial role in the application development process. Their task is to test the application before it is released to detect any errors and defects. However, often despite careful testing, problems arise after the application is published. In such a situation, it is important for the team responsible for the application to act quickly and effectively to fix errors and minimize their impact on users.
The technical support team supports our users in Polish, English, Spanish, and Italian. Each situation requires an individual approach and solution from us. The growing number of application users and the tourist season is a significant challenge for support, which is why it undergoes changes and modifications every year to improve our customer service.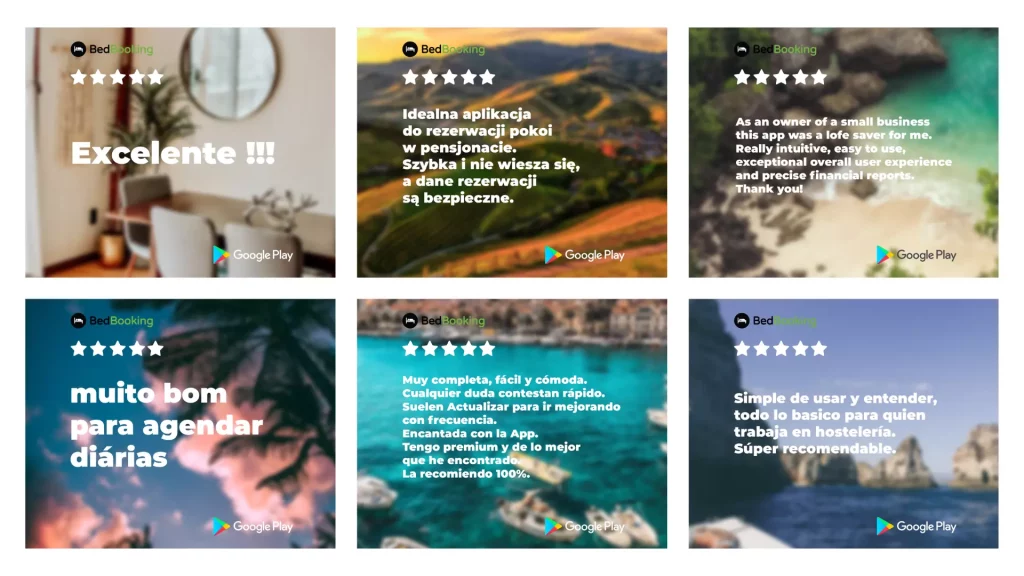 Opinions about BedBooking
In recent years, the STR (Short Term Rental) industry market has undergone significant changes, and new trends and growing customer expectations have influenced the evolution of rental management tools. Once a simple calendar was enough to control reservations, but now hosts need comprehensive solutions that will allow them to meet the demands of the dynamic market.
BedBooking is aware of these changes and constantly adapts its application to current needs, offering advanced management, communication, and data analysis tools that help hosts achieve success.
We thank you, dear users, for all the opinions and suggestions that you give us regularly. It is thanks to you that we can constantly develop our application and better meet your needs, providing solutions for the modern short-term rental market.
On the 10th anniversary of the creation of our application, we would like to invite everyone to visit our blog on the website, where we share inspirations, tips, and soon interviews with users of the BedBooking reservation management application.
We also encourage you to leave reviews about our application in the Google Play or AppStore, which is very important to us and allows us to better tailor our tools to your needs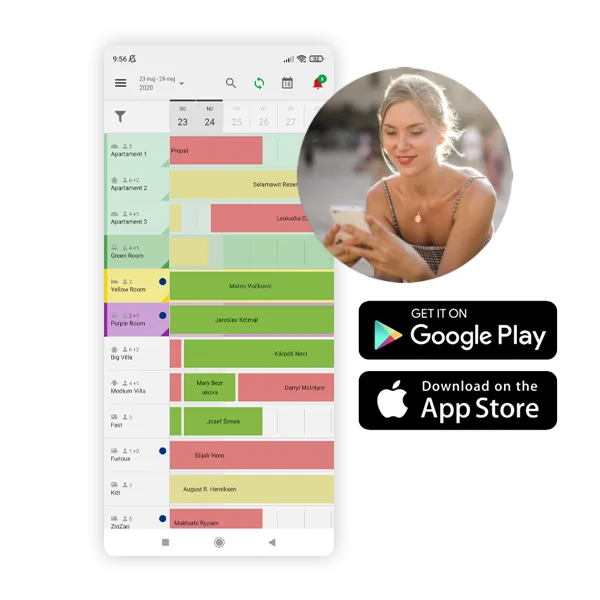 You can leave opinions about the reservation calendar application at:
Thank you for being with us and creating history with BedBooking.
We want to continue helping accommodation owners, and that is why we are preparing novelties that will be available soon.
Let's stay in touch.