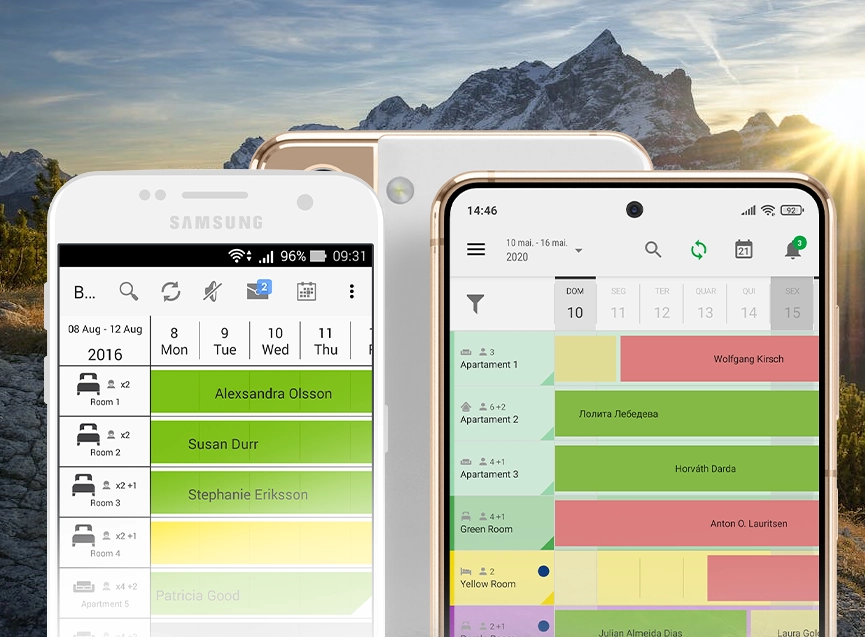 BedBooking price list changes
If you plant a tree you will not notice how much it changes every day, but if you compare its development after a few years – you will be very surprised! When you use a tool like BedBooking on a daily basis, you usually have a hard time noticing how much it changes. That is why we want to present the stage of development where our product is located, take a look into the past and present, and take a peek at our plans for the future.
On November 15, 2022, we are changing the price list in BedBooking – today you can freeze the price for another year! In this article, you will learn what is changing and what it means for BedBooking users.
Why are we making changes?
What has changed at BedBooking?
Price change
What's next?
Plans for 2023
Do you have any questions?
1. Why are we making changes?
As the BedBooking team, we understand perfectly well that an increase of prices usually generates questions. It is completely natural and rational.
The last change in the BedBooking price list took place in 2020. Since then, we've rolled out over 50 updates, supporting three platforms – Android, iOS, and the web. BedBooking is now a completely different application than a few years ago. If the prices had remained in place, the BedBooking accommodation management system would also remain in place.
For you, we want to be even better, more agile and faster – to provide the best tool on the market.
2. What has changed at BedBooking?
Reservation System 2.0. as a response to market changes
Recent years have been a difficult period for the entire tourism industry – we all know that. At the same time, as a result of the pandemic, we all focused on the internet – mainly social media. The pandemic also caused a significant acceleration in the development of e-commerce and the entry of new, once more cautious, customer groups into the market. There are new opportunities for the sale of accommodation via the Internet. On this occasion, the BedBooking team set itself the challenge of redesigning the existing booking system for your website – so that each host could, within the scope of his choice, take advantage of the opportunity to sell rooms without commissions. This is how the Reservation System 2.0 was created.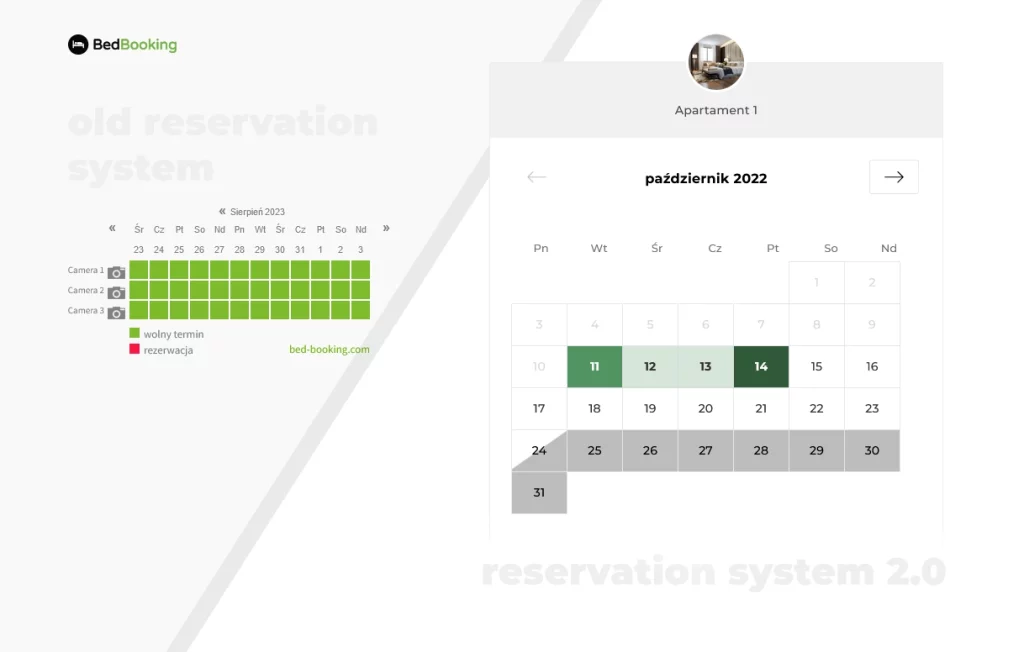 The old booking system was very simple. The tool that we delivered in 2021 is something completely new. It flawlessly adapts to the website, regardless of whether it is opened on a computer or a mobile device. It has an interface that you can adapt with your brand thanks to setting your own colors, names, descriptions, handling objects in multiple locations, placing distinguishing marks, uploading a logo, property regulations and photos. In addition, it works in 24 language versions – intelligently selects the language for the visitor who visits the site, and this allows travelers from all over the world to book! And thanks to full connection to the calendar and price list, setup takes only a few moments!
We also made sure that you could use social media in your business, which you are probably working on anyway. From now on, the booking system is available not only in the form of a widget, but also your own, independent website, which you can place on social media, on a business card, in an advertisement or connect it to a QR code.
Reservation system 2.0 means many additional tools. It selects offers for your guest, divides larger groups into rooms and offers dates in such a way as to fill your calendar wisely. It also gives some freedom to guests who can filter the rooms by amenities and order additional services (such as parking or a bottle of champagne) on their own, so you can use cross-selling. Extra options may be mandatory for the guest, free or paid (per item, per person, one time, and many more). They are fully customizable and can be paused temporarily.
We've also made sure to let you accept payments safely. The system is secured with an SSL certificate, and payments are processed by external, commonly trusted entities (Dotpay, Przelewy24, Paypal) that have all the required security. You have the option of setting a full payment, deposit or payment on the spot. You can set up automatic cancellation of bookings if a guest fails to pay within the time interval you choose.
According to a study by BankMyCell, the so-called Millennials (born between 1981 and 1996) prefer other methods of communication than traditional telephone calls. However, if you are not ready to let guests book their own accommodation, but you don't want to lose sales opportunities, then set your booking system to only allow appointment inquiries. This will break the anxiety barrier before making a call and open up your facility to new visitors.
Native connection with Airbnb and reconstruction of the connection configuration with iCalendar – the new, large functionalities of BedBooking
With over 900 million visitors and over 4 million people coming to the platform each night, Airbnb is one of the largest OTA portals in the world. This is a great opportunity for our hosts. However, there are problems such as having to choose between multiple platforms or manually rewriting reservations. Let's face it – these aren't automatic, and they're not convenient. To take advantage of such a large customer base as Airbnb offers, you cannot afford to make mistakes and minimize the risk of overbooking. This is how the native connection with Airbnb was created, which sets a new standard for our integration.
In 2021, we gave you a quick and convenient connection with Airbnb. In addition, to help you go through all the configuration stages, we have created a dynamic manual, and the system itself no longer connects to your basic BedBooking price list – from now on you can create a completely separate price list and restrictions only for Airbnb guests! Remember that synchronization happens in real time, so you can sleep well.
Diversification of sales is very important, so we do not forget about other portals where you can offer your accommodation. A universal, functional and very popular solution for hosts from all over the world was the connection via iCalendar. iCalendar is nothing more than an intermediary between the portals you choose and the BedBooking calendar. Although the connection has been part of BedBooking for a long time, we decided to rebuild it to better fulfill its tasks. From now on, you can connect your BedBooking calendar not only with OTA portals, but also – at your request – with your own solutions. We also added exports without having to use a Google calendar.
Save time with the new price list!
Setting up each day separately or in bulk, convenient sliding with a finger, full flexibility and speed. From 2020, our users set prices in many rooms at the same time and have promotional tools in their hands (different prices for long and short stays). Advanced configuration allows you to add local tax or set your own restrictions. The price list has become a developed tool that allows you to plan your sales.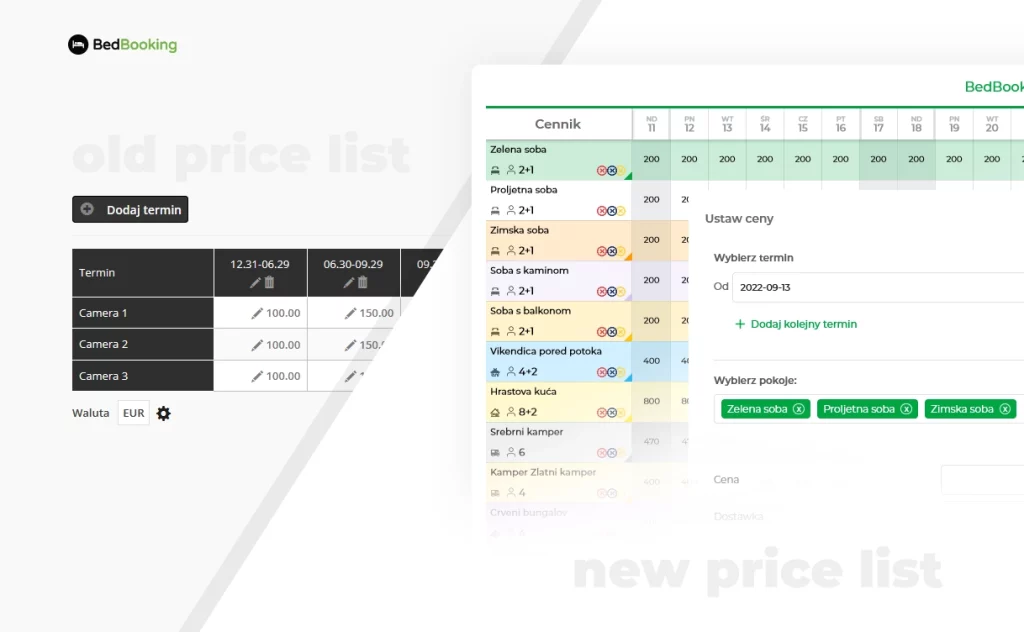 Statistics – and it will get even better!
Business decisions should be made on the basis of facts and statistics, not imagination. In BedBooking, we do not want you to choose your strategy if you were forced to transfer data from the calendar to Excel or… flip a coin. We believe that every business – regardless of its size – needs wise data-based management and we want to provide you with a tool that will present this data in a convenient way.
We combined statistics with the booking calendar. Currently, it is the number of added reservations, occupancy, RevPAR, ADR and the ability to create financial reports.
Fast calendar – our priority
BedBooking is 10 years old. The fact that it has gained dozens of additional functions that have grown to be huge improvements makes us proud, of course, but we do not forget that the calendar will always be the basic functionality, which plays the greatest role in BedBooking.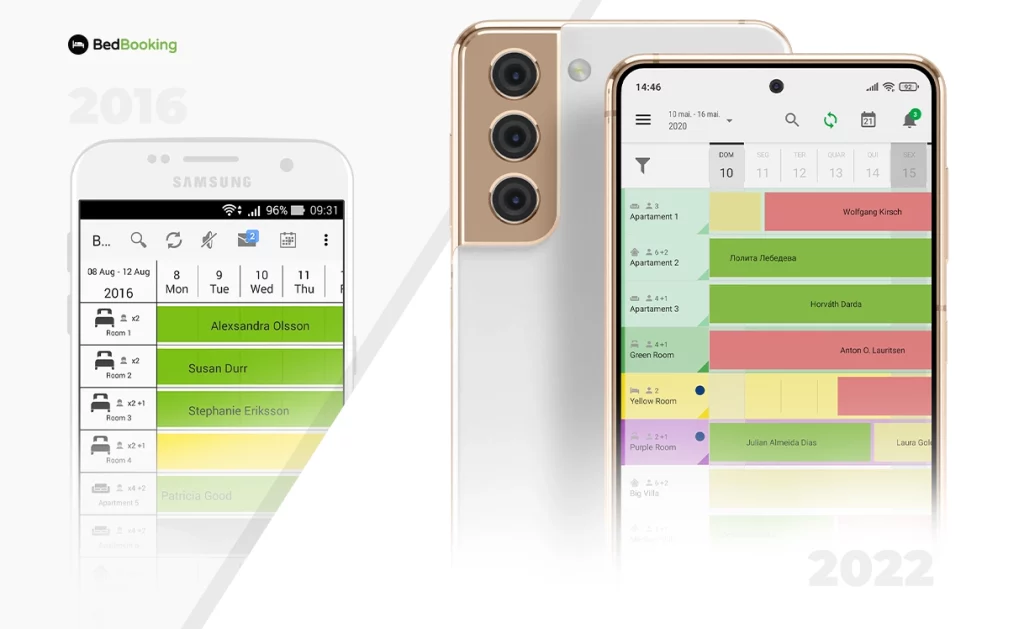 We design it to be transparent and fast. Optimization plays a very big role in our work. We know that no one needs a huge system that will easily break. The unique property of our calendar allows you to move it endlessly without errors or problems.
Intelligent assistant – an employee included in the price of the BedBooking subscription
The calendar is connected to many systems that cooperate with each other. Thanks to this, you can automatically collect reservations from many sources, but that's not the end of your work. As the owner of the property, you have a lot of responsibilities – you have to remember about many things: check-in, check-out, payments, cleaning rooms. Sometimes our hosts dream of a helper… What if the list of duties was created automatically based on events and preferences? That is why we have provided an intelligent BedBooking assistant that is available 24 hours a day.
3. Price change
Monthly access to BedBooking in the Premium version for the All-in-one package from November 15, 2022 will be:
1-3 rooms in the package – EUR 15 net / month or USD 18 net / month
4-10 rooms in the package – EUR 36 net / month or USD 36 net / month
11-20 rooms in the package – EUR 54 net / month or USD 60 net / month
21-50 rooms in the package – EUR 66 net / month or USD 78 net / month
51 rooms and more in the package – EUR 102 net / month or USD 120 net / month
… and when buying for 12 and 24 months:
Premium for 12 months:
1-3 rooms in the package – EUR 12.50 net / month or USD 15 net / month
4-10 rooms in the package – EUR 30 net / month or USD 30 net / month
11-20 rooms in the package – EUR 45 net / month or USD 50 net / month
21-50 rooms in the package – EUR 55 net / month or USD 65 net / month
51 rooms and more in the package – EUR 85 net / month or USD 100 net / month
Premium for 24 months:
1-3 rooms in the package – EUR 11.88 net / month or USD 14.25 net / month
4-10 rooms in the package – EUR 28.50 net / month or USD 28.50 net / month
11-20 rooms in the package – EUR 42.75 net / month or USD 47.50 net / month
21-50 rooms in the package – EUR 52.25 net / month or USD 61.75 net / month
51 rooms and more in the package – EUR 80.75 net / month or USD 95 net / month
Until November 14, 2022, you can extend the Premium package at the old price – even for another 12 months.
4. What's next?
BedBooking website
If you extend your Premium account via our website – you don't have to do anything. The new prices will appear in the purchase form and there you will be able to extend your package on the new terms.
To make a purchase, log in to your account at app.bed-booking.com, select the Premium option in the menu on the left and make a purchase for the period of your choice.
Google Play and AppStore
Automatically renewing subscriptions will require manual approval of the increase.
On November 15, packages for 1 year and 2 years in the All-in-one plan will also be withdrawn from the Google Play and Apple Store stores. These packages will remain available at a promotional price, but will only be available for purchase on our website.
What about the Free account?
The Free account is still free. You do not have to be continuous in paying for the Premium account – your data is safe, still available to you on the spot and waiting for the new season!
5. Plans for 2023
We change prices, and we will fully invest the additional funds obtained in further development. Here's what we are working on or planning:
Expanding the customer service team
Despite the fact that we care about the reliability and efficient operation of the system (99.9% uptime, which is the time of uninterrupted operation of the entire BedBooking system), the software on which you base your business should have excellent customer service – regardless of whether you have a problem or just a question or you run a small business alone or you own a network of facilities.
The customer service team works to guide customers through the configuration process as quickly as possible, answer questions, educate or rescue accidentally deleted data. We would like to do it quicker, more efficiently and in more languages.
Permissions
When BedBooking started 10 years ago as a calendar for small family businesses, no one expressed the need to add permissions. With the development of the application, we gained the attention of larger accommodation facilities, and customers asked us for new improvements.
The task was not easy – we had to rebuild all the existing functionalities so that you would be able to flexibly assign permissions to your staff accounts. At the end of 2022, we are pleased to announce that we are already at the end of preparing this functionality.
Thanks to the permissions, you will be able to grant different levels of access to your calendar to additional users. This will increase the security of your data and introduce the possibility of anonymization. Now you will be able to give access to your account to cleaners, property managers or administrators of your website without fear. You choose what data they will have access to. In addition, the authorization system was created as a result of direct consultations with you – in order to best fulfill its task.
The functionality will be available to all users at no additional charge in the All-in-one plan.
Statistics
At the turn of 2021/2022, we asked our users about their needs. The undisputed winner of our survey was the advanced statistics window. No wonder – we appreciate and understand that our clients want to base their business on data.
As a team, we approached the subject very ambitiously, creating a unique solution on the market that will allow you to make wise decisions in a complete and graphic way. You can read more about it here.
The functionality will be available to all users at no additional charge in the All-in-one plan.
Booking.com – Multiple Property ID
Some time ago, we slightly rebuilt the Booking.com connection configurator, preparing the BedBooking accommodation booking system to connect many properties with different IDs. We want owners of multiple properties to be able to see all of them in one view – as a whole.
The functionality will be available to all users at no additional charge in the All-in-one plan.
A separate price list for each sales channel
We know how much users love our additional Airbnb pricing. This type of solution allows for an advanced and conscious pricing strategy, different for every sales channel.
The functionality will be available to all users at no additional charge in the All-in-one plan.
8. Do you have any questions?
We believe that thanks to this summary, we helped you notice a number of changes introduced in BedBooking from 2020. We develop – we follow changes, modernity, technology and needs. Just like you.
Do you have any questions? Suggestions? Do you want to take part in testing new system functionalities? Contact us!